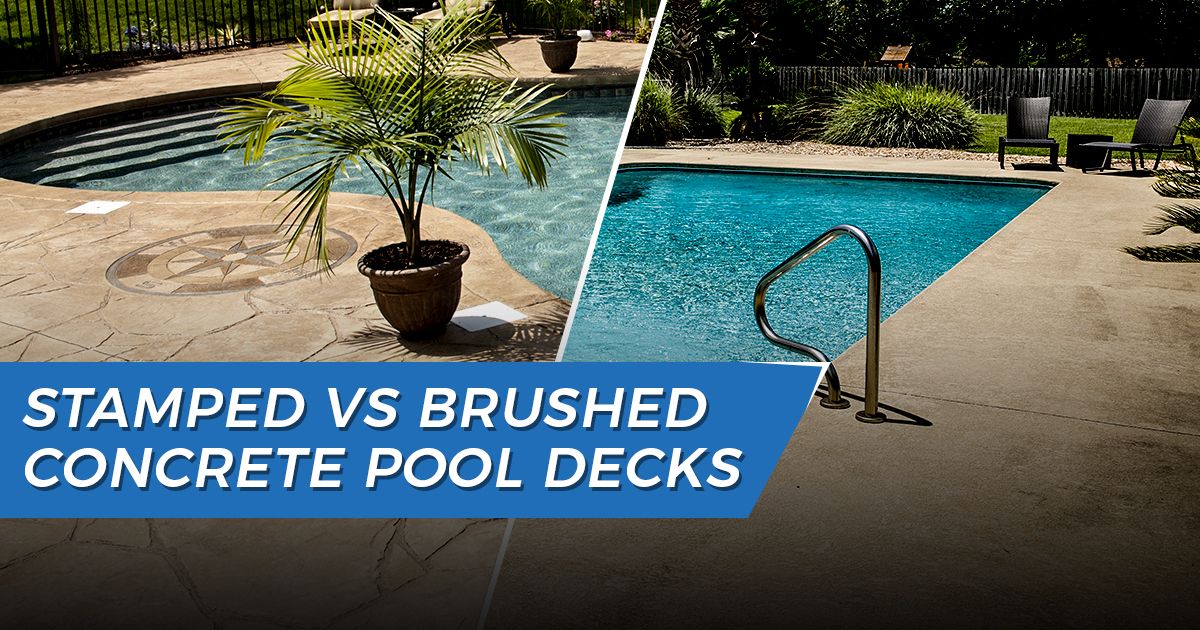 Stamped Vs Brushed Concrete Pool Decks: What's The Difference?
So, you want to install a new pool deck. You know that concrete decking is a good option, but different kinds exist. You're not sure which type of concrete is right for you. When you meet with a pool installation or remodeling contractor, they'll likely start talking about stamped concrete versus brushed concrete. Before you get too far into the process of remodeling your pool deck, you'll have to make a decision.
The type of decking material you choose for your pool will affect the way your decking looks and performs for years to come. It's important to choose a material that fits within your budget, looks right in your yard, and feels good under your feet. Knowing the characteristics of each type of decking material can help you make your choice. At GPS Pools, we'll be happy to offer the pros and cons of each type to help make the decision easier. Here's what you need to know.
Related Article: 7 Signs It's Time For Pool Deck Renovation
What's a Stamped Pool Deck?
A stamped pool deck is made from concrete that has been shaped into various textures. It can be made to resemble stone tiles and other types of paving, and once it's dyed in different colors, stamped concrete is a stand-out material. Pool decks made from this type of material are relatively high-end in the world of concrete pool decking. If you're planning to sell your home, they have excellent ROI and can improve your home's visual appeal. If you're looking for a concrete decking material that's long-lasting and beautiful, stamped concrete is an excellent option.
What's a Brushed Concrete Pool Deck?
Brushed concrete is poured into a frame and then brushed smooth with a stiff broom. When it's dry, some brushed concrete can have a rough texture that may feel prickly to the bottoms of your feet. If those textures aren't desirable, work with your pool installation contractor to create a smoother, more pleasing texture. Brushed concrete pool decking can be brushed in alternating directions to create a subtle pattern if desired.
Related Article: Painting a Concrete Pool Deck: What to Consider
Stamped vs Brushed Concrete
Before deciding which type of pool decking is right for you, do a side-by-side comparison of stamped vs brushed concrete. Though these types of decking are made from the same material, they look and perform very differently.
Maintenance
Both types of concrete must be swept occasionally to prevent dirt from building up on the concrete. When cracks develop, both types of concrete must have the cracks repaired, or more cracks may develop over time.
Stamped finish concrete needs to be resealed periodically, while brushed finish concrete does not. You can reseal your decking on your own, or you can hire a contractor to do the work for you. Either way, resealing represents a minor but necessary expense every few years. In this way, stamped finish concrete needs more maintenance and can cost more than brushed concrete.
Appearance
Brushed deck concrete has few variations in appearance. Although brushed deck concrete can be dyed different colors upon installation, it does not have many variations in texture.
Stamped finish concrete, on the other hand, comes in many beautiful colors and patterns. Your contractor can show you the many color and texture options to help you decide. If aesthetics is very important to you and if you value having many choices, you may be happier with a stamped finish option.
Stamped vs Brushed Concrete Costs
Stamped finished concrete comes at a higher price point than the alternative. It's this cost difference that leads some budget-minded homeowners to choose the brushed texture. However, if you're looking for a product that you'll happy with for many years, cost isn't the only factor to consider.
Related Article: Pool Deck Pavers vs Concrete: How Do They Compare?
Stamped vs Brushed Concrete Which One Is Right for You?
So, it comes back to this question: Stamped vs. brushed concrete ‒ which one is right for you?
Ask to see photos. Ask your contractor to see pictures of their previous work, including photos of each type of concrete. If your contractor has been working in your area for a while, they should have many examples of previous jobs. While you're at it, find out which type your contractor installs more often in your area to get a sense of what homeowners around you find more desirable.
Get a quote. Before deciding which type of decking is right for you, have your contractor produce a quote for each option. This will give you a sense of what fits in your budget and could be the deciding factor.
Consider your landscaping. Stamped pool decking fits in nicely with many natural backyard landscapes. If your backyard is full of tropical plants and grass, this decking will complement it nicely. If your backyard has a minimalist aesthetic, such as xeriscaping, for example, brushed concrete may be more appropriate. Hold up photos of each possibility to your backyard to get a better sense of what your backyard will look like with each type of material.
Weigh the pros and cons. Make a pro and con list of each option once you've completed some research. Lay out the information in a logical and organized fashion to help you make your final decision.
Contact GPS Pools to Get Started Today
GPS Pools has been resurfacing and remodeling pool decks for over 20 years and proudly serves Odessa, Pebble Creek, Tampa Palms, Wesley Chapel, Seven Springs, Keystone, Lake Fern, and more, from our locations in New Tampa, Land O'Lakes, and Lutz. Are you seeking a whole new look for your backyard? Contact us. We perform repairs, installations, and pool deck maintenance tasks like tile replacement. We also can help you decide whether to install stamped vs. brushed concrete. To hire a contractor that uses high-quality materials and offers craftsmanship you can count on, call today to make an appointment.