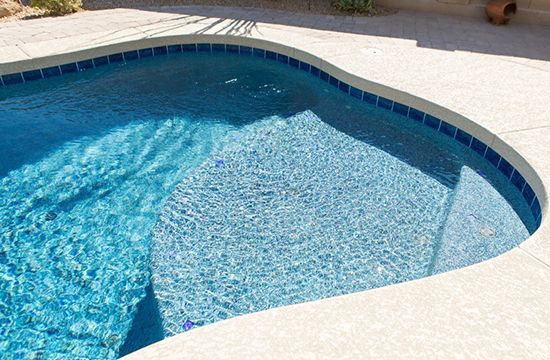 Pebble Tec's Elegant Color
New pools shimmer because of their perfect finish and unmarred surfaces. As pools age, those finishes can start to look damaged and stained. Resurfacing, restoration and repair is the only way to make your pool as beautiful as it once was. GPS Pools Inc. uses Wet Edge aggregate pool finish. We're very selective about the companies we work with because we want our customers to enjoy the best products and the best warranties. Wet Edge provides our customers with the value and quality we expect.
Variety of Pebble Tec Pool Finish Options

Our Pebble Tec-like pool resurfacing is made up of small pieces, including natural stones and glass, held together with concrete. Pebble Tec comes in different colors and sizes. When choosing the color of your pool finish, consider the color of the water over the finish before making your final selection. Each pebble affects the reflections and tones that you'll see in the pool when it's full. Our pool finishes come in many shades, including:
Midnight blue

Black pearl

Sky blue

Soft white

Sedona red

Tropical breeze

And so much more
Durability of a Pebble Tec Pool Finish
With proper care, our Pebble Tec-like pool finish lasts between 15 and 25 years. You'll get the most out of your pool by hiring a pool maintenance professional. Working with a maintenance professional, you'll know for sure that your pool chemicals are being correctly balanced and your pool is in good hands. Have your pool cleaned regularly and read the warranty on your pool finish product before swimming in it for the first time. Knowing the terms of the warranty can help you avoid premature wear and tear, and can prevent you from invalidating the warranty.
A Natural Shimmer
Pebble Tec is known for its iridescent shimmer, stemming from its unique mixture of glass beads, concrete and natural stones. Glass beads produce the most shine, making our Pebble Tec-like finish shine brighter and more impressive than many of the competitors. This light prism technology adds to the richness and depth of the water's color. With our pool finishes, you'll notice more shine in your pool, especially on blazing sunny days. Want to cut back on the shine? Darker finishes create richer, darker water and less reflection of the sun.
Pebble Tec Pool Texture
Our pool finishes produce a unique texture that feels good to the feet and makes walking upright in your pool easier. Aggregate pebbles on the bottom of the pool produce traction that can prevent slips in the water. Some people are sensitive to the larger, traditional Pebble Tec stones. For people who find the larger stones to be uncomfortable, the mini pebble works just as well. Mini pebbles feel softer and silkier to the feet and provide more comfort when you spend long hours in the pool.
Resurface Your Pool with Pebble Tec
GPS Pools Inc. installs and repairs Pebble Tec surfaces to make your pool stand out. To find out more about our Pebble Tec pool resurfacing, contact us today.