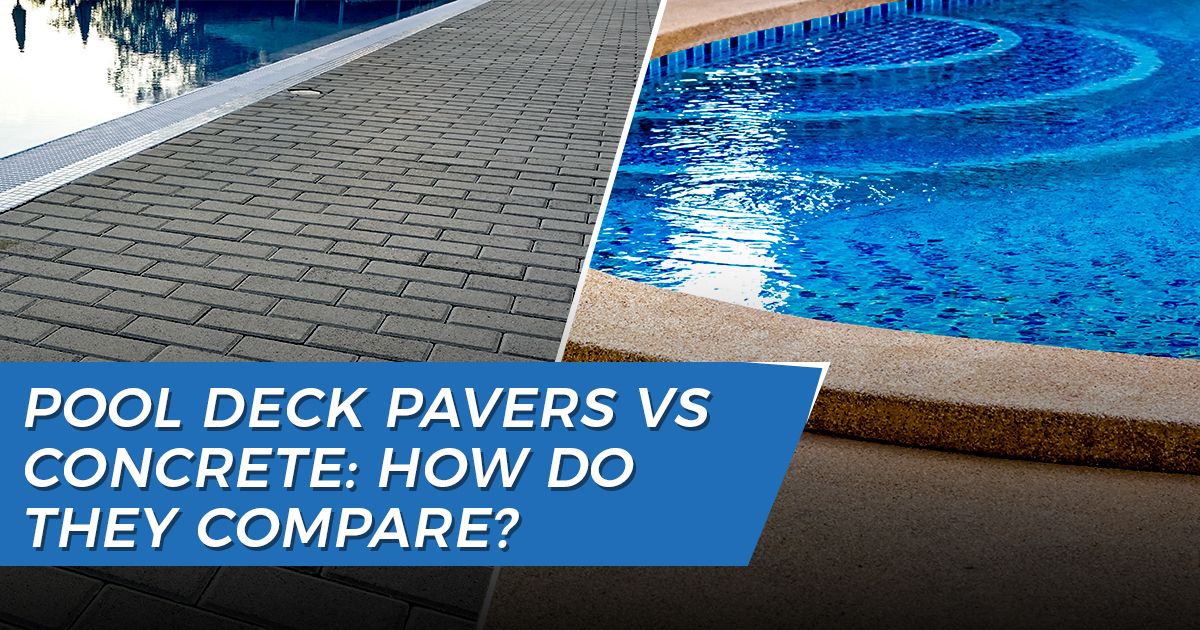 Pool Deck Pavers vs Concrete: How Do They Compare?
Your deck is a part of the beauty and functionality of your backyard pool area. When you're designing or remodeling your pool deck, it's important to give as much time and thought to your deck as to the pool itself. If you're trying to decide between pool deck pavers and concrete, it's important to know that both are good choices! Pavers have long-lasting beauty, while concrete is as attractive as it is practical.
Before you purchase one or the other types of decking material, learn about the differences. The kind you choose will affect the look of your backyard and the durability of your deck for years to come. Working with a knowledgeable, reputable contractor can help as well.
Pool Deck Pavers vs Concrete: Deck Paver Options
Deck pavers have natural beauty. They sometimes come in organic shapes and are placed together in an irregular but pleasing formation. Other times, they're cut into predictable geometric shapes and are pieced together like parts of a puzzle. Either way, natural stone pavers have a variety of colors and textures. Some types of natural stone are more durable than others. You'll have to work with your pool contractor to decide which type of stone is right for your backyard and budget. Common options include:
Flagstone. Flagstone is a natural sedimentary rock that naturally has flat shapes; its colors vary between gray and brown.
Travertine. Travertine is a warm-colored stone, usually more of a brown hue than gray.
Concrete pavers. Concrete pavers come in a variety of colors and shapes to make unusual and unique patterns. They can be molded into any shape.
Advantages of Deck Pavers
Stone deck pavers are the preferred material for high-end pools and well-landscaped backyards. Deck pavers add a touch of class to any backyard, making your pool a thing of beauty.
High value. Pavers add value, making them a nice feature if you're planning to sell your home soon.
Easy to repair. Deck pavers are easy to repair. When one paver breaks, cracks, or chips, it can be easily swapped for another.
Longer lasting. Natural stone deck pavers are longer lasting than concrete.
Natural beauty. Stone pavers have natural beauty, and they can be installed in dazzling patterns that add value to your backyard pool deck area.
Disadvantages of Deck Pavers
Deck pavers aren't for everybody! If you're thinking about installing deck pavers, you should know a few things before proceeding with your purchase and installation.
Cost. Deck pavers, especially natural stone pavers, tend to be more costly than standard concrete decking.
Involved installation. Paver installation is more time consuming and complicated than installing concrete.
Sensitivity to pool water. Some types of natural stone can be negatively affected by pool water that lacks the proper pH or chemical balance.
Pool Deck Pavers vs Concrete: All About Concrete
Unlike paving stones, concrete pool decks are made up of large slabs that have been poured and allowed to cure around the pool. Concrete decks can be poured in different shapes and pressed into different textures or patterns. Many homeowners pour standard gray concrete, but some choose shades of red, blue, or brown to match their home, pool tiles, or landscaping.
Advantages of Concrete
Concrete pavers have many advantages, making pavers one of the most popular pool deck materials available.
Inexpensive. Concrete costs less to install because it doesn't have to be quarried, and it's made from inexpensive material.
Flexible. This material can be dyed and stained in various ways, so consumers installing concrete have many options.
Easy to install. Concrete deck installation can happen relatively quickly, without the painstaking process of laying each paver individually.
Disadvantages of Concrete
Although concrete is easy to install and inexpensive upfront, you should consider some of its disadvantages when you're trying to decide which material is best for your pool deck.
Ongoing maintenance. Concrete must be resealed periodically, or it may be subject to cracking and other damage. Once the cracking starts, it's hard to stop.
Surface erosion. Over time, your concrete pool deck will begin to erode, leaving the surface rough underfoot.
Shorter service life. Concrete doesn't last as long as many types of natural stone, which means you'll have to refinish your deck more frequently than if you installed natural stone pavers at the start. You can expect your concrete deck to last a couple of decades rather than a generation.
Color fades. Though concrete can be dyed to whatever color you want, that color may fade over time, leaving your pool deck looking worn after years of use.
Quality control. This material can vary in quality, and some lower-end concrete doesn't last very long. Work with a contractor who uses quality materials to ensure that your concrete deck will last as long as possible.
Which One Is Right for You?
Is your pool deck in need of refinishing or repair? Are you ready to make a change to your backyard landscape? GPS Pools serves pool owners in Tampa and the surrounding area. We help homeowners like you enjoy life around your pool. Spend your lazy summer afternoons in a pool that glimmers and shines!
Contact us today to discuss pool deck pavers vs. concrete, deck repair and maintenance, deck resurfacing and more. Our experienced staff will help you design a pool deck or pool remodel that will work for you. GPS Pools has three locations, including: Land O'Lakes, (813) 345-8596; Lutz, (813) 948-9091; or 813-632-0050 for our new Tampa office. Give us a call or fill out our online form for a prompt response!