Resurfacing a Pool: The Process and What to Expect
Resurfacing a pool is always a good idea to help preserve its longevity. Successfully completing the process will require you to keep a few key things in mind. All of this will help make sure that your pool looks as good as it did when you first installed it.
Related Article: Time to Resurface the Pool? 8 Signs to Look For
What Is Pool Resurfacing?
Also commonly referred to as "pool refinishing," pool resurfacing is a process that involves removing and eventually replacing the existing finish (or top surface layer) of a pool. Once the refinishing process has been completed, a new sealant can be applied. This will not only improve the overall life span of the pool, but its visual appearance as well. Part of the goal of the resurfacing process is to restore the pool to the way that it looked when it was originally installed, or as close to that state as possible.
What Signs Mean Resurfacing a Pool is Needed?
Generally speaking, all pools are unique unto themselves. This means that the signs that might indicate one pool needs to be resurfaced might vary from even another that is located nearby. Having said that, there are a number of important potential warning signs to watch out for. These include, but are certainly not limited to, ones like:
Any stains that have developed on the surface of the pool. Yes, these stains can be efficiently cleaned, but this issue should not be a common occurrence.
Discoloration that is occurring anywhere on the pool's surface. Note that while stains are generally easily cleaned, discoloration tends to be more permanent in nature.
Instances of flaking or peeling that have begun to develop on or around the surface of the pool.
Cracks in the surface of the pool.
The loss of pebbles over time or any other issues pertaining to the surface.
Failure with regard to either the paint or fiberglass of the pool or, in some cases, both.
Any one of these signs may not be an indication that a pool resurfacing is imminent on its own. But when taken together, they do point to a larger issue that will need to be effectively addressed in the short term.
Related Article: Time to Resurface the Pool? 8 Signs to Look For
How Often Should I Consider Resurfacing a Pool?
This, too, will vary, depending on the type of pool you have and even the area of the country that you live in. Pools that are exposed to harsher environments, as well as those that see heavy periods of use all year-round, will likely need to be resurfaced more frequently.
Having said that, you can typically expect to resurface your pool at a frequency of between eight and 10 years.
How Long Does It Take to Resurface a Pool?
The size of your pool, its shape, and even the materials that were used during its construction will all impact how long a pool resurfacing job takes. Keep in mind that you need to properly drain the pool, remove the old surface, apply new materials, etc.
As a rule of thumb, expect a team of professionals to take between five and 14 days to successfully resurface your pool. These will be days when they work between eight and 10 hours, on average. Although again, this amount of time can vary significantly depending on the environment that the pool maintenance professionals find themselves working in.
When Is the Best Time to Resurface My Pool?
While everyone's preferences will vary, the fall is generally considered the best time to resurface your pool. Part of this has to do with the fact that you'll be using it far less frequently than you otherwise would, allowing the process to be less obstructive than it would be during the warm summer months.
The weather in general is an important consideration to make when resurfacing your pool. You should try to do so during a period of less rain and cooler temperatures if possible. This is part of the reason why many recommend that the fall is the best time to begin such a project.
However, if you're also planning to complete a larger remodeling project for your backyard, it would be recommended to accomplish all the tasks at the same time. Examples of this would include situations in which you are thinking of replacing any existing outdoor decking or if necessary maintenance to plumbing and related fixtures for the pool needs to be completed. Not only will you limit the amount of time that your outdoor spaces are potentially unusable, but if you select a provider who is capable of handling everything, you could save a fair amount of money in the process.
Related Article: Swimming Pool Construction: Why Fall is the Best Time to Start
Resurfacing a Pool Process: What to Expect
While the mechanics of resurfacing a pool will vary slightly depending on factors like who is completing the job and what type of environment they are working with, there are a number of common steps that will take place. Understanding them before the process begins can help you better manage your expectations in terms of how long the process will take, what will be involved, and more.
Draining the Pool
The process of resurfacing a pool always begins with proper draining. However, if you've never done so before, you will need to check with your local government to confirm that you know how to properly do so.
Depending on where you live, there may be specified areas in which you are allowed to drain your pool. Likewise, you may need to obtain permits from the local government before the process can be completed.
Surface Preparation
Next, you'll need to make sure that the surface of the pool is properly prepared before you proceed. It's likely that your pool will have debris like leaves and dirt that you need to contend with. There also may be rust stains or other minor instances of discoloration that should be dealt with. During this period, any minor cracks should be addressed, and necessary patching should be taken care of.
Priming
At this point, you can prime the surface of the pool. This typically involves applying a primer epoxy before you then use the appropriate refinishing solution. Think of it a bit like the process you would go through to prime a wall in your home before you repaint it.
The entire surface of the pool should have the primer applied to it, and you should allow it to dry per the manufacturer's directions before completing the rest of the process. Expect this to take approximately four hours to complete, time that will again vary depending on the size of the surface you're working with.
Finishing and More
At this point, the desired resurfacing solution can be "painted" onto the pool by a professional. They will begin with the deeper end of the pool and work their way to the shallow end. They will likely apply several coats, allowing each one to dry before moving on to the next one. This is critical to make sure that each layer adheres correctly. In most situations, you can expect a professional to use between three and four coats, although more may be required depending on the situation.
Refilling the Pool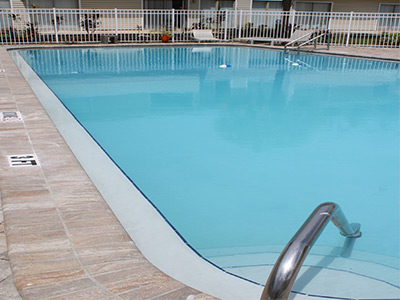 Finally, after the last coat of resurfacing material has been applied and has adequately dried, it's time to refill the pool. Note that the instructions on most products that are used during this process recommend allowing the pool to dry in the open air for at least seven days, if not as long as 10. However, once you refill the pool and see the fresh new look that it brings with it, it will become clear that the effort was more than worth it.
While resurfacing a pool is a process that you can complete on your own, it isn't necessarily recommended. Not only is it time-consuming, but it is also highly labor-intensive as well. Not only that, but there is a lot that can potentially go wrong in terms of selecting the right surface materials, etc. It's far better to leave the job to the professionals with years of experience so that you can just enjoy your newly resurfaced pool with as few potential downsides as possible.
In the end, resurfacing a pool is an occasional necessity ‒ but it is also one that brings with it a number of benefits. In addition to allowing you to comfortably spend more days in the sun than ever, it helps preserve the overall life span of your pool. This can help you achieve the highest return on investment possible. For many homeowners out there, this in and of itself is the most important benefit of all.
Related Article: Concrete Pool Resurfacing Cost: What to Expect
GPS Pools: Your Partners in Pool Resurfacing
If you're thinking that it might be time for your concrete pool resurfacing project but aren't quite sure, don't worry ‒ the team at GPS Pools is here to help. In addition to being available for consultations that will help you better understand the situation you face and which steps to take next, we also offer a wide array of high-quality pool maintenance products and accessories for you to choose from, depending on your needs. We've been proudly serving residents from our locations in New Tampa, Land O'Lakes, and Lutz that cater to nearby areas such as Wesley Chapel, Pebble Creek, Tampa Palms, Odessa, Seven Springs, Lake Fern, and others, for many years and are honored for the opportunity to do the same for you.