Robotic Pool Cleaners: What Are The Benefits?
Robotic pool cleaners are the future! With an easy setup and simple programming features, these products make owning a pool more fun and less about maintenance. If you don't yet own a robotic pool cleaner, there's much to know about how beneficial these amazing gadgets can be. Once you know the advantages, we think you'll want to buy one yourself.
READ: Automatic Vacuums for Pools: 3 Types to Choose From
Energy-Efficient
Some robotic pool cleaners are so energy-efficient that they cost just 15 cents to run a 3-hour cycle. That saves you money and has almost zero impact on your home's energy use. If reducing your home's carbon footprint is important to you, this type of product can help you keep your pool clean without negatively impacting your home's energy usage.
Easy to Use
Robotic pool cleaners are easy to use by design. Simply drop your cleaner in the water, turn it on, and leave it to run. You don't have to be present while it runs a cycle. When it's finished, pull it out by the cord and clean the filter, if needed. Want to know more? Check out this video:
Remember that each model runs in its own way, so the one you buy might work slightly differently. Many videos are posted online about different kinds of pool cleaners, so run a search on the kind you're thinking about buying before making your purchase.
Robotic Pool Cleaners Run on Your Schedule
Many homeowners still use the services of a pool-cleaning business to maintain their pool. These businesses run on a schedule set in advance. If you're planning a pool party that conflicts with your pool-cleaning schedule, you'll have to move your appointment.
Your robotic pool cleaner runs when you want it to. Planning to use your pool at an unusual time? No problem! You're in control of your cleaning device.
Effective for Cleaning Walls and Water Line Tiles
Many pool cleaners are so powerful they clean the floors, walls and the water line! You'll be impressed the first time your robot climbs your pool wall, turns around and goes back down.
Runs Independently of the Pool System
Many models have their own power source that runs independently of the pool system, so your robotic cleaner doesn't have to be on at the same time as the pool pump and other pool features. Some pool cleaners even have a battery pack. If you buy a pool cleaner with a battery pack, read the device specs to find out how long the battery lasts.
Robotic Pool Cleaners Can Be Programmed to Run in Advance
Many pool robot pool cleaners are pre-programmable, so you can decide in advance when your pool cleaner should run. Programming in advance ensures that the pool cleaning gets done on a regular basis. If you're likely to forget to run your cleaner, or if you travel a lot, this feature prevents you from going a long time between cleanings. Plus, it ensures that your pool will be hygienic and ready to use when you need it.
Start and Stop From Wi-Fi
Many types of robot pool cleaners link to your home's Wi-Fi, and you can control them from an app on your smartphone. You can check in on its operation from inside your home, inside your neighbor's home, or halfway across the world, as long as you have access to data or Wi-Fi. If you want to ensure that your pool cleaner comes with this feature, check for it in the device specs before making your purchase. Some of the most basic types of pool cleaners do not have this feature.
No Ongoing Costs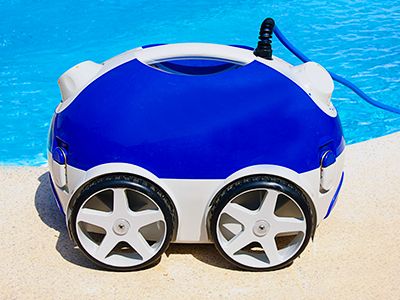 Other than the cost to run your pool cleaner on a regular basis, most mechanical pool cleaners have no ongoing costs. Depending on how much you pay for your pool-cleaning service, this means that buying a robotic pool cleaner could save you hundreds of dollars each year. It's important to buy a quality pool cleaner to ensure the device you buy will last a long time. A low-end device that doesn't last isn't worth the investment, because you'll have to purchase a new device in such a short period.
That's why GPS Pools sells Maytronics products, because they specialize in pool cleaners. We're proud to sell quality devices with a good warranty.
You Can Rent Before You Buy
You don't have to commit to the purchase of a pool cleaner before you're sure that it's the product for you. GPS Pools rents pool cleaners to homeowners who want to try the product for themselves before making their purchase. We'll guide you through the process of choosing the right model for you. We'll also answer any questions you might have, so you can select a model that works. Decided you don't like the pool cleaner? No problem! We'll take it back, and you can resume your normal pool service.
Interested in Renting Robotic Pool Cleaners? Contact GPS Pools
GPS Pools sells and rents Maytronic Dolphin pool cleaners for homeowners in Tampa, Wesley Chapel, Lutz and other communities in the area. We're a certified Gold Elite dealer of Maytronics products, so we can answer any questions you might have about any of the Maytronics models.
If you would like to own or rent a Maytronics Dolphin product, contact us to get started. With over 20 years in the business, we've got a solid reputation with the homeowners in the Tampa area for a reason. We're happy to help homeowners like you maintain a clean, safe pool. Call us today to make an appointment or find out more about renting a Maytronics robotic pool cleaner.